Listen to SETI
You can listen to all three studio albums through either Youtube music, Spotify or Apple Music
Head to the Discography section of our website, and you will find links to listen to the complete SETI studio discography on all major streaming platforms.



SETI live
It will happen in Santiago Chile, on December 5, 2019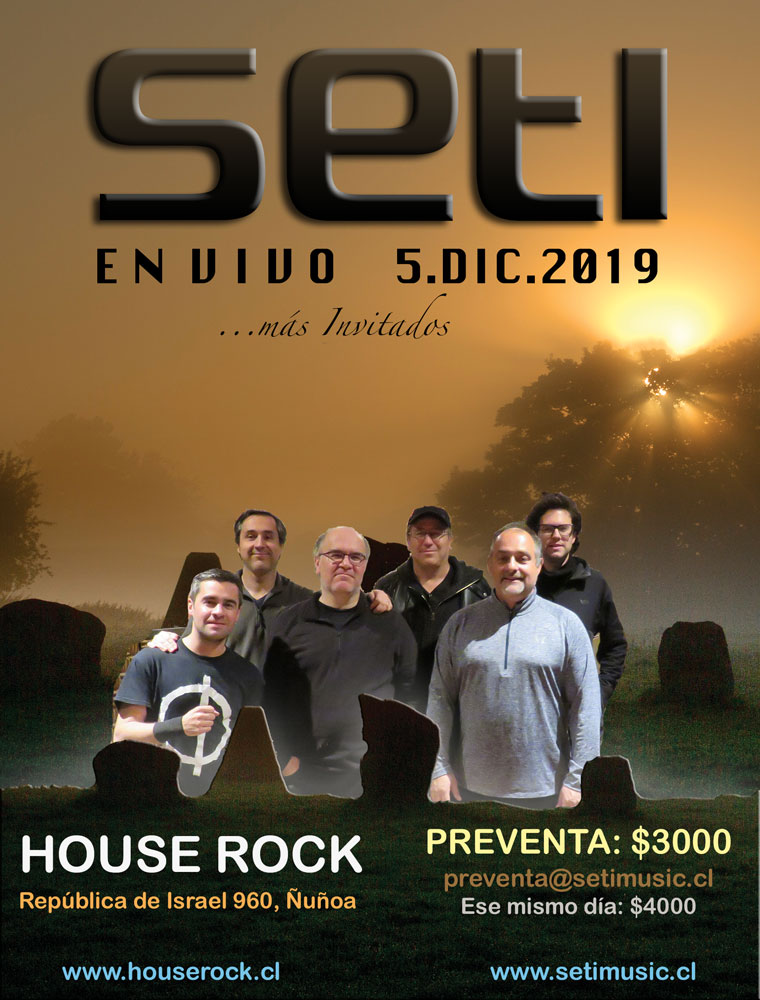 The lineup will be Jaime Scalpello and Tom Price on vocals, Claudio Momberg on keyboards, José Luis Ramos on bass, Nico Torres on guitars and Juan Ricardo Weiler on drums.
The capacity of the pub is very limited so that we encourage you to participate on the pre-sale campaign, writing to preventa@setimusic.cl



New video! Claudio Momberg introduces the new band and guests

The preorder campaign for the third SETI album is now active, please go to the special preorder page for the details. You'll also find two exclusive video previews for the preorder campaign.
Bold Travels in Mixing stage
It's a great achievement, when an album that has been work-in-progress for about 5 years gets to the stage of mixing. Of course a stereo and a 5.1 surround mix are planned, yet the form they will take is yet unclear. It will al depend on the results on the forthcoming preorder campaign to fund the physical release, though a simple jewel case single-disc release is guaranteed, if the campaign gets succesfull it may become a 2-disc version including the surround mix, instrumental mixes, interviews and other surprises
Seti on social networks
Don't forget to follow us on twitter: @SetiMusicProg and also like our page on Facebook. You may also contact us on those social networks, we look forward to read from you!